We know that it is never pleasant to come face to face with a real-life wild animal inside your home, especially when that wild animal is a rodent, just like a rat or a mouse. There is a good chance that the rat will scamper away as soon as you clap eyes on it, but you should try to keep an eye on where the little critter goes. That's what will help you in your fight to trap and remove it, although we must be upfront with you. The traps we're talking about are snap traps - this means the action will result in the rat's death. Although this seems like the least humane option when it comes to wild animal removal, it is actually the most humane one. Many rats that are relocated are killed or die within a few days. In fact, very few rats that are relocated / rehomed go on to survive the ordeal.

If you do find yourself with a rat in your bedroom, and you do manage to spot where the rat has disappeared off to, you'll need to head outside of your home, rather than stay in the room in which you spotted it. If a rat has got in, there's an entrance point somewhere, and this is what you'll need to deal with first. If you do not, the rat will just keep coming and going, and so will other rats too. Their urine acts as a communication system, containing pheromones will help attract other rats. In turn, those rats will attract other wild animals too - bigger ones, such as raccoons and opossums. You need to get this rat, and any other rats that came with it, out as soon as possible. If you don't, you're going to have a rather large and costly problem on your hands. One of the things that often comes hand in hand with a rat infestation is property damage.
Once you have worked out where the rat is coming in, and sealed the hole, and dealt with any other damaged or weak spots on the exterior of your home, it's time to come back inside. You will need to come armed with traps - rat traps, not mouse traps. The wrong trap will result in a part-dead rat that you will need to deal with, or no trapped rat at all.
Place the traps in the areas that you have spotted the rats. If they've been to that spot once, they'll likely visit the same patch again. If you are struggling to find out where the rats are coming and going from, you can use a white powder, such as flour, to help you. When sprinkled on the floor, little footprints will soon appear if the rats are running over it. You can then place your rat traps, fully baited with something like peanut butter, in the most-visited spots. If you regularly check them over the next few days - every couple of hours or so - you should start to find dead rats in the traps. It's up to you whether you dispose of the entire thing, or you reuse the traps, but they're not overly expensive to buy. You should continue to bait and lay the traps until no further rats are caught, and then continue to keep setting and placing the traps for at least a couple of days after that. You will need to be sure that every single rat that was once in your home is now out of it. It might take some time too - it all depends on how many rats you had in your home, and how trap-shy they are too. You may find that you need to move your traps around a few times before you have any success.
Go back to the
Rats in the Attic
home page.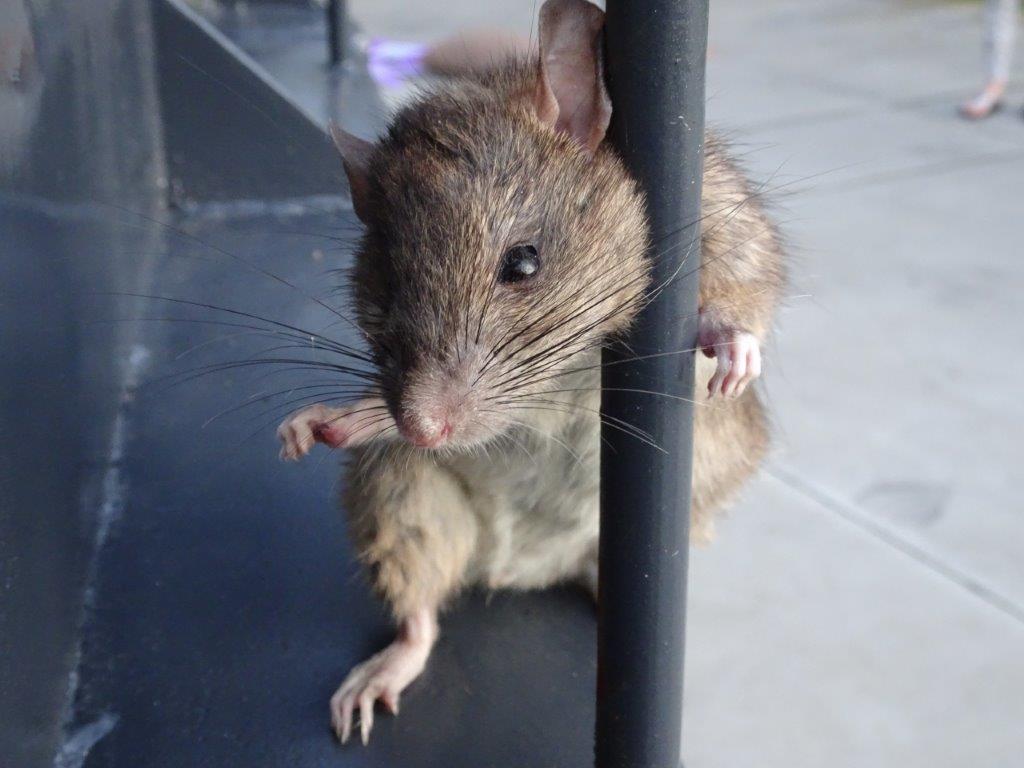 Rats don't just live in pipes, they love cozy, private places like your room. It's important to always be alert, checking all the spaces in your home. These little invaders may be living in your home, increasing the risk of disease for your family and pets.
Do you have rats living in your room?
Find out how you can get a rat out of your bedroom below.
---
How to know if there are rats in my room?
Before we know how to get a rat out of our house or room, it's important to know what we're dealing with. A single rat present in our home is a sign of alarm. This rodent can produce up to 800 offspring during its fertile life.
Signs that your room and home are being nested by rats:
Strange noises: Rats are quite noisy, especially when they are in places that make them feel uncomfortable. They usually come out at night.
Food and gnawed objects: Small holes in boxes, wires, bags, and even clothes are signs that rats are present. The powerful teeth of rats can pierce in different containers. Especially those of fresh food.
Droppings: If you find something that looks like a small grain of black rice, you can be sure it's rat droppings. This indicates that these small animals have already invaded your home.
An always alert pet: If you have a pet, whether it's a cat or a dog, they will probably help you spot the rats inside your house. If you notice that your pet is upset and looking at fixed points in the house, it has probably seen a rodent.
---
How do you get rid of those pesky rats?
One of the most effective ways to prevent these pesky rats from nesting in your room is to keep it clean and tidy at all times. If it's too late, and rats have already entered your house and room, then apply these tips to get rid of them:
Scare these pesky rodents off. Prepare solutions based on water and hot sauce, mint, or ammonia and spray them in the corners. Rats usually hate these kinds of smells, so they will come out scared.
Set a trap made of glue or adhesive, the rats will be stuck and will not be able to escape.
A pet cat can be a very good option. Cats are rat exterminators by nature. Even their urine serves as a repellent for these pesky rodents.
Always keep all the spaces in your room clean; accumulated waste often attracts rats.
If you have pets, pay close attention to their food. It can also attract rats.
Eliminate all possible access routes for rats to your room. Examples of these are pipes and drains.
If you have a garden, you can also plant aromatic herbs to use as a repellent.
If you want to put a stop to the rat invasion in your room, the most effective way is with rat poison. it is important that you are very careful. It is often dangerous for children and pets.
Many people are very afraid of rats, and their fear is reasonable, as we well know they are dangerous carriers of diseases. That's why getting rid of them often requires desperate measures.
Remember to be alert and prevent the arrival of these invaders. Always keep your room and house clean.