Do It Yourself Rat Removal
Roll up your sleeves and get working! If you want to get rid of a rat problem, you can do the job yourself, for a low cost. I'm writing here to help you do it right. Rat control work is not easy. There is no simple fix. Please read the below instructions if you actually want to solve the rat issue permanently. Also, read my safety considerations below the instructions.





It's not quick and easy - there is no effective rat repellent that'll do the trick. You can't just throw some rat poison in the attic, or lay out some snap traps or glue boards and think that'll get the job done. That would be like putting a band-aid on a toothache. You've got to address the root problem. You've got to stop the rats from getting inside your house in the first place.
DO IT YOURSELF INSTRUCTIONS
If you want to get rid of rats in the attic, you need to follow a series of steps:



STEP 1:

Find out how rats are getting inside the building. This is absolutely crucial! Those rats are entering your home and attic somehow. You will NEVER solve your rat problem unless you find ALL the entry points. Every single last one. One little failure, one missed spot, and you will have rats in your attic or house forever. You must inspect the whole structure, from the ground up, including all portions of the roof, and the plumbing system. Check vents, eaves, roof joints, plumbing stacks, AC chases, the chimney, EVERYTHING. You must be completely thorough. An intimate knowledge of rat behavior and building architecture helps a great deal. Know what signs to look for - brown staining and grease at entry points, gnawing, etc. Also, inspect in the attic, where you will see rat trails that will help you identify entry points, and you'll spot rat damage that you'll want to fix, such as gnawed wires or pipes. This page will help explain the inspection process in more detail: Rat Inspection.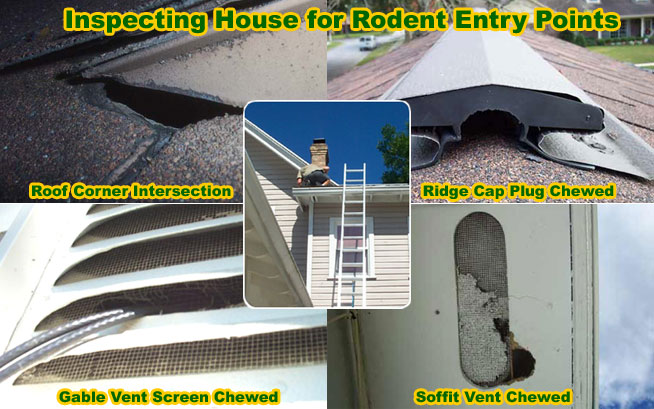 STEP 2:

Seal up all the entry points. That's right, seal them up first, even if there are many rats currently inside the building. It's very important that you do it this way. If you leave the entry holes open, and then begin trapping or excluding the rats, guess what? Open holes mean more and more rats will keep coming in, and the job will never end. And here's another important point - the rats are much easier to trap once the exits have been sealed off. And if you intend to do an exclusion with a one-way rat door, then you have to seal all entry/exit holes first. Read more about repairs on this page: Rat Repairs.



STEP 3:

Trap and remove the rats. You have three options here. First, you can use the standard lethal snap traps. Second, you can use live cage traps. Third, you can install a one-way funnel door exit on the primary rat entry/exit hole, if you have identified it. I have used all of these methods. I do care about being humane to all wildlife, but when it comes to rats, which breed incredibly quickly and have a very short life span, and have good memories and gnawing abilities, I must say that I absolutely do use the lethal snap traps in the attic. I have found this method is to be the most effective, and it's more humane than a slow, painful death by poisoning. Set the traps on the rodent runways, not haphazardly. Trap placement is absolutely key. Bait doesn't even matter, but I do use peanut butter on my trap pans. Brand of trap does matter, and I like the old Victor wooden traps. Check the traps frequently and remove and dispose of any trapped rats, to avoid odor problems. Read more about the art of rat trapping here: How To Trap Rats.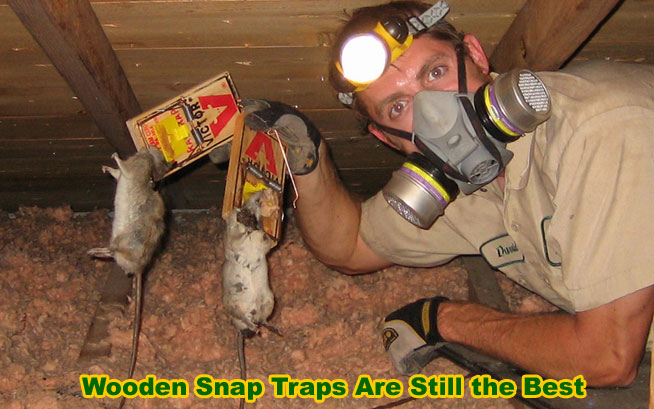 STEP 4:

Clean up after the rats. It's important that you decontaminate and deodorize the attic after you have removed the rats. Rats and rat feces can cause various health problems. Learn more about: Rat Diseases. Rats leave behind a strong pheromone scent which attracts new rats to the attic. This scent is in the urine and gland grease that rats leave behind. This scent encourages new rats to gnaw their way into your attic, so it's important to get rid of this scent. And other animals, such as snakes, track this scent too. I wear full biohazard gear and HEPA filter mask and vacuum up the droppings, replace soiled insulation, and fog the whole attic with a special enzyme-based cleaner that kills the germs, pathogens, mold, and scent of the poop and urine. Read more about the process: Rat Decontamination.

SAFETY CONSIDERATIONS
Your inspection process must include ladder work and climbing on a roof. Most rats in attics enter via roof entry points - although they can get into the building a variety of ways. Proper ladder safety is a must, as is roof safety. I'm not going to go into detail about harnesses and chicken ladders and such, but be careful! Then, when in the attic, wear a respirator - you don't want to breathe in fiberglass insulation, dust or mold, or the variety of diseases associated with rats. Walk only on the wooden beams in the attic, never the sheet rock, or you could fall through the ceiling! Be careful, an attic is a hazardous place, where it can be easy to fall, or poke a roofing nail in your head. Also, be careful when setting snap traps. They are very strong, and can injure your fingers. If you're not experienced in setting them, you may have some problems, so be careful.

THIS SOUNDS HARD
Well, it is. I've spent 30+ hours of labor on certain rat control projects. But just because it's hard, it doesn't mean it can't be done. You're always welcome to give it your best shot, and then call out a pro if you can't get the job done. I actually am not necessarily optimistic about the chances of a beginner to do it completely right (like I said, it took me dozens of houses before I started to really get the hang of it), but I don't want to rule out your abilities. Just be careful, pay attention to detail, and be persistent. Finally, if you're broke, and money is an issue, or if you just want to save money, just be aware that the costs of leaving a rat problem untreated, from chewed electrical wires, fire hazard, chewed pvc plumbing pipes, health risks, can far outweigh the costs of rat control. Professionals do exist for a reason, because it is in truth very skilled work, but if you work really hard, you can do it! If you need professional help, I have friends that I have personally trained in these cities:

THE SAME APPLIES TO MICE
Although I wrote this site with rats in mind, such as the Roof Rat and Norway Rat, the same principles apply to other rodents, such as the house mouse. Mice behave very similarly to rats, they're just smaller. If you have extra questions not addressed above, email me if you have any questions about how to solve a mouse problem yourself. Here is a list of emails sent to me about rat issues: petrified of rats, can dogs keep rats away, rats in carport, Rats in the Air Conditioner - AC Chase, Rats in Foreclosure Home, Rats in New Jersey, Can Rats Live in a Hot Attic?, What do rat bones look like?,

Other rat information:
What should I do with a rat after I catch it?
What animals do rats kill?
Do rats have bones? How can they fit in such small holes?
Do rats attack human necks?
Will a rat in the attic have a nest of babies?
What is the best bait to trap a rat?
Do rats bite humans in their sleep?
Do rats bite sleeping babies?
What if you are bitten by a rat
Black pepper and rats
Biology of Black Rat
Do rats dig holes? Do they burrow under houses? How deep?
Are cage traps a good option for rats?
What can rats climb?
Can rats hurt you?
Can rats swim? Do they drown?
Do cats keep rats away?
Do rats carry rabies?
Can Rats Chew Through Wires in a Car?
Does car insurance cover rat damage?
Do rats destroy insulation in an attic?
Do rats chew on wires? Why?
What can rats chew through?
Will a rat chew through the ceiling?
What are the types of rat snap traps?
How to Make a Rat Trap
Is it legal for me to trap a rat?
Humane rat traps
What if a rat got inside my house?
Do rats make good pets?
Do dogs keep rats away?
Are rats dangerous to cats, dogs, or other pets?
How to get rats out of a wall
How to keep rats out of my garden
How to keep rats out of my garbage
How to get rats out of the garage
How to get rats out of your car
Rat diseases symptoms in humans
What diseases do rats carry?
Do rats live in more urban areas, or wild areas?
Rats in New York subway
How do you remove a rat stuck in a dumpster?
Why are there so many rats in NYC?
What does rat feces look like? Where is it found?
Is rat feces dangerous to touch or breathe?
What kind of damage do rats cause in an attic?
How do I clean rat feces out of the attic?
Should I ever poison a rat?
An analysis of inhumane glue traps for rats
Should You Use Electrocution Traps for Rats and Mice?
Which is easier to trap - mice or rats?
Fastest way to get rid of rats
What equipment is needed to trap a rat?
How to inspect a house for rat entry holes
Do rats enter a building through the plumbing?
Do rats hide from humans?
How to get free rat removal
How to find and remove a dead rat
What should I do if I find a nest of rats in the attic?
How smart are rats?
How rats communicate using pheromones
How big do rats get?
Do rats jump? How high or how far?
What's the Difference Between Rat and Mouse Feces?
Diseases caused by rat urine
What do rats sound like?
Rat diseases that affect humans